Georgia Pre-Kindergarten Program Resource Site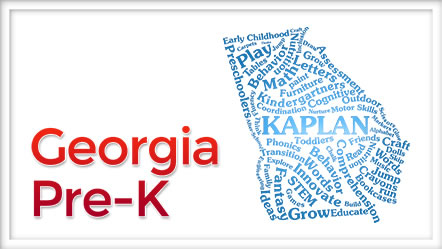 Your trusted partner for GA Pre-K success!
Kaplan is proud to extend its long-standing tradition of supporting you – Georgia's early childhood professionals and caregivers – with this website, which is designed to help you create quality learning environments for young children. With the click of a button, you will find the information and resources you need to design and operate a high quality pre-kindergarten program for young children and their families in your area.
Participation in Georgia's Voluntary Pre-Kindergarten Program insures that children are ready for a great kindergarten year and lays the foundation for future academic success. We look forward to playing a role in that success story!
To learn more about state standards and guidelines for Georgia early childhood classrooms and facilities, visit the Bright from the Start: Georgia Department of Early Care and Learning website.
Beyond Centers and Circle Time® Curriculum Pre-K Theme Series

The Beyond Centers and Circle Time® Curriculum is designed to provide a blend between a developmental and a didactic approach to working with young children. This theme series will provide teachers with lesson ideas that will allow opportunities to offer direct information while allowing children to experiment and explore materials in order to create their own knowledge.The Beyond Centers and Circle Time® Curriculum theme series is written to offer support to educators and parents who wish to maintain a balance between supporting their child's acquisition of skills and knowledge that will prepare him/her for later school success and the joys and delights of experiencing a playful childhood.

Learn Every Day™ : The Preschool Curriculum

With the classic bestseller A Planning Guide to the Preschool Curriculum at its foundation, Learn Every Day™ : The Preschool Curriculum can be implemented in any preschool classroom. Based on the latest research about how children learn best, each of the 36 thematic units contain ESL tips, special needs adaptations, and suggestions for extending learning. The curriculum includes a music CD with 18 songs. Meets state guidelines for quality preschool education.


NEW! Now includes a free subscription to the ProFile Planner (digital lesson planning and more) with Learn Every Day™ activities. That's a $196.95 value - for FREE!

GA Transportation Training

This course is state approved in Georgia ONLY and meets the requirements in the State of Georgia for biannual transportation training. If you do not live or work in Georgia, please check out "Traveling with Precious Cargo", our other transportation safety training course. When you think of bus safety, what do you think of? Driver requirements, sea belts, and restraints? Yes, but there is so much more! In this interactive course, participants will become knowledgeable about safe transportation and compliance with state transportation rules. You will learn about vehicle safety, child passenger safety, required documentation, emergency readiness, and how to check the vehicle to ensure that no child is left behind. This is a 3 hour course; it is worth .3 CEUs and 3 hours of Bright from the Start (BFTS) approved training.

Georgia Early Learning and Development Standards

Quick Guides

Indicators

Correlations

Lesson Plans

Georgia Pre-K Shopping Lists

Curriculum Correlations and Resources

Other Correlations

Mouse over an area to see your sales representive.